On Wednesday the 22nd of July a group of thirty eight parishioners and friends led by our Parish Priest Fr. Denis Ryan set out for a week's holiday to the lovely Italian Resort of Lake Como. We flew into Milan Airport and from the moment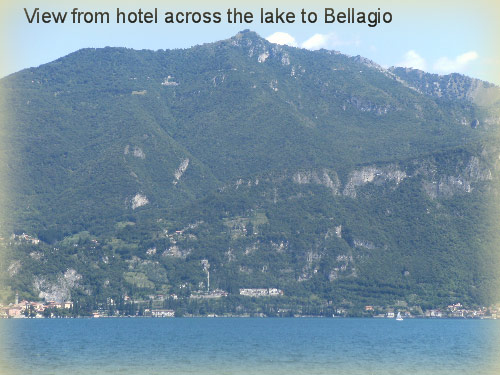 we walked off the plane to feel the heat as we made our way to the bus we knew we were on holiday.

As we boarded our bus and made the journey from Milan to the resort of Como evening was falling and we did not get much of a chance to see the sights on our way. We arrived at the Grand Hotel Cadenabbia at around 10.30pm tired but looking forward to exploring the area.

We arranged to meet our local guide Julia the next morning to take us on a tour of the lake by boat stopping off at the lovely resort of Bellagio which was just directly across the lake from Cadenabbia, after a lovely breakfast on the 5th floor terrace restaurant of the Hotel where the views of the lake have to be seen to be believed we meet our guide and walked across the road from the Hotel to where our boat awaited us to begin our exploration of the lake.

We headed off from Cadenabbia and travelled up the lake past the beautiful Villa Carlotta with its picturesque gardens which are well worth a visit then on up past the lovely village of Tremezzo taking in the beautiful scenery as we went past.

Click here to see all of the pictures from the trip in our gallery

Our trip then took us up around a lovely little island in the middle of the lake and on around passing the village of Lecco and then down to the very picturesque port of Bellagio where our boat stopped and we had a couple of hours to wander around this lovely town with its cobble streets and steps leading up to the upper level of shops and café's. As we wandered around here in beautiful sunshine, we were struck by the beauty of the place and most of us made a pact to come back across the lake to this little town during some of the free time we would have later in the week.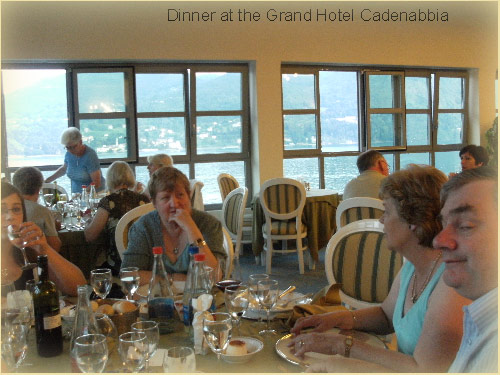 We returned to the Grand Hotel Cadenabbia where we were free to explore for the remainder of the day and looked forward to sampling the culinary delights of the Hotel's dining room for dinner later in the evening. A group of us arranged to meet in the dining room at 8.pm and were very well received by the Restaurant Manager and staff who could not do enough to look after us. Dinner was a four course meal with plenty of choice for everyone and we all enjoyed our food, after dinner we adjourned to the fourth floor terrace bar for tea/coffee and a night cap or two where after a while you could hear the strains of Irish songs floating around the bar. We retired to our rooms and looked forward to our trip next days to the city of Milan.


Friday morning bright and early we had breakfast and set out for our bus journey to Milan as we headed back on the journey we had made on our arrival we were able to take in the lovely scenery we had missed on our way in and as we negotiated the very narrow roads we offered up a silent prayer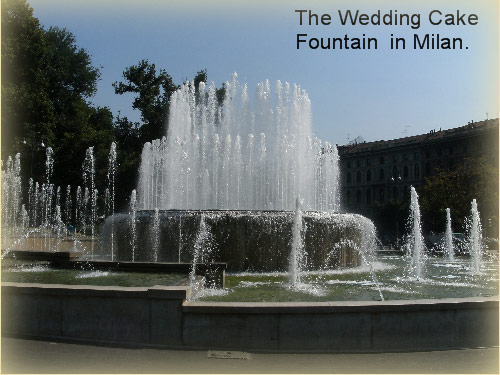 for the skills of our bus driver. We arrived in Milan to meet our local guide who would walk us around the city taking in the sights of the Castle Sforzesco with its beautiful water fountain (known locally as the wedding cake ), we had a guided tour around the castle grounds before boarding the bus again to take a short drive around the city before arriving at the side entrance to La Scala the famous opera house from here we left our guide and continued on our own for a couple of hours before arranging to meet again at the water fountain. The group split up here and some headed over to see the magnificent cathedral which dominates the square, while others headed off to do some retail therapy and some headed in need of refreshments and to get out of the mid-day sun which at this point was hitting 37 degrees (a little too hot for us fair skinned race). A couple of the younger members of the group decided to see what the view would be like from the roof of the Cathedral and climbed up the 270 steps to the roof where they reported back that it had been well worth the effort but not quite as spectacular as the views from St. Peter's in Rome.

When we returned to the bus it was interesting to hear the views from different members of the group as to how they had spent their free time in the city of Milan. Some had taken in a visit to the La Scala Opera House and had even sang a little tune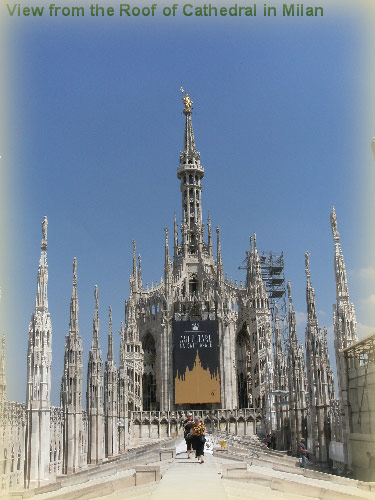 while they were there, others had gone to visit some of the many exhibitions which were on in the city, most of the group had spent some time going around the magnificent cathedral with its beautiful mosaic floors and many shrines (It was also one of the coolest places to be in the sweltering heat) As we made our way out of the city of Milan and back to the tranquil beauty of Lake Como we all seemed to be glad to be leaving behind the heat of the city and looking forward to a gentle breeze from the Lake at Como.

The next two days were leisure days to spend as we liked and explore the area around from the picturesque nearby town of Menaggio to the north which could be reached by taking a taxi or the local tourist train which ran from Tremezzo and stopped outside the Hotel before winding its way up to the village of Menaggio with it lovely square and picturesque bars and cafes and lovely little convent church with its lovely statue of Padre Pio. Some of the group took the bus from here into the Swiss town of Lugano while other decided to take one of the many pleasure boats which go up and down the lake, some went to visit the Villa Carlotta and gardens while some just took the time to relax at the hotel pool.

On Monday we meet our guide Julia again for our trip to the lovely Swiss skiing resort of St Moritz we travelled up to Switzerland over the Molloj pass where the scenery was magnificent as we made our accent up the hairpin bends we once again offered up a silent prayer for the skilful driving of our bus driver Hermes who took us up to a height of 5000 feet effortlessly. On arriving at St Moritz we made our way from an underground car park up three escalators before finally arriving at the upper level where we strolled around the town window shopping and seeing how the rich and famous live.

After lunch we made our way back to the bus for our return journey to Lake Como where the decent back down the hairpin bends was even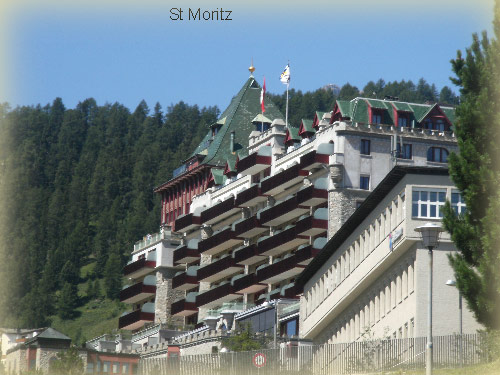 more spectacular than our accent had been. The next day was a leisure day to spend as we wished so some of us decided to head by boat into the town of Como to do some shopping and have a look around. Como is a pretty decent sized town with plenty of good shops and nice café's and a very impressive cathedral which dominates the main square. We returned to Cadenabbia to spend our last evening at the Grand Hotel and get ready for our return home.

I think the memories of our week in Como will remain with us for a long time and I am sure many of our group will make the return journey there at some stage but the echo of most of the people on the bus as we arrived back home in St Jude's was "Where are we going next year?" We will have to wait and see!!!!!! If you have any suggestions of places you think might be suitable send them into the parish office and you never know where the next trip might take us!!!!!!!!!!!!!


Catherine