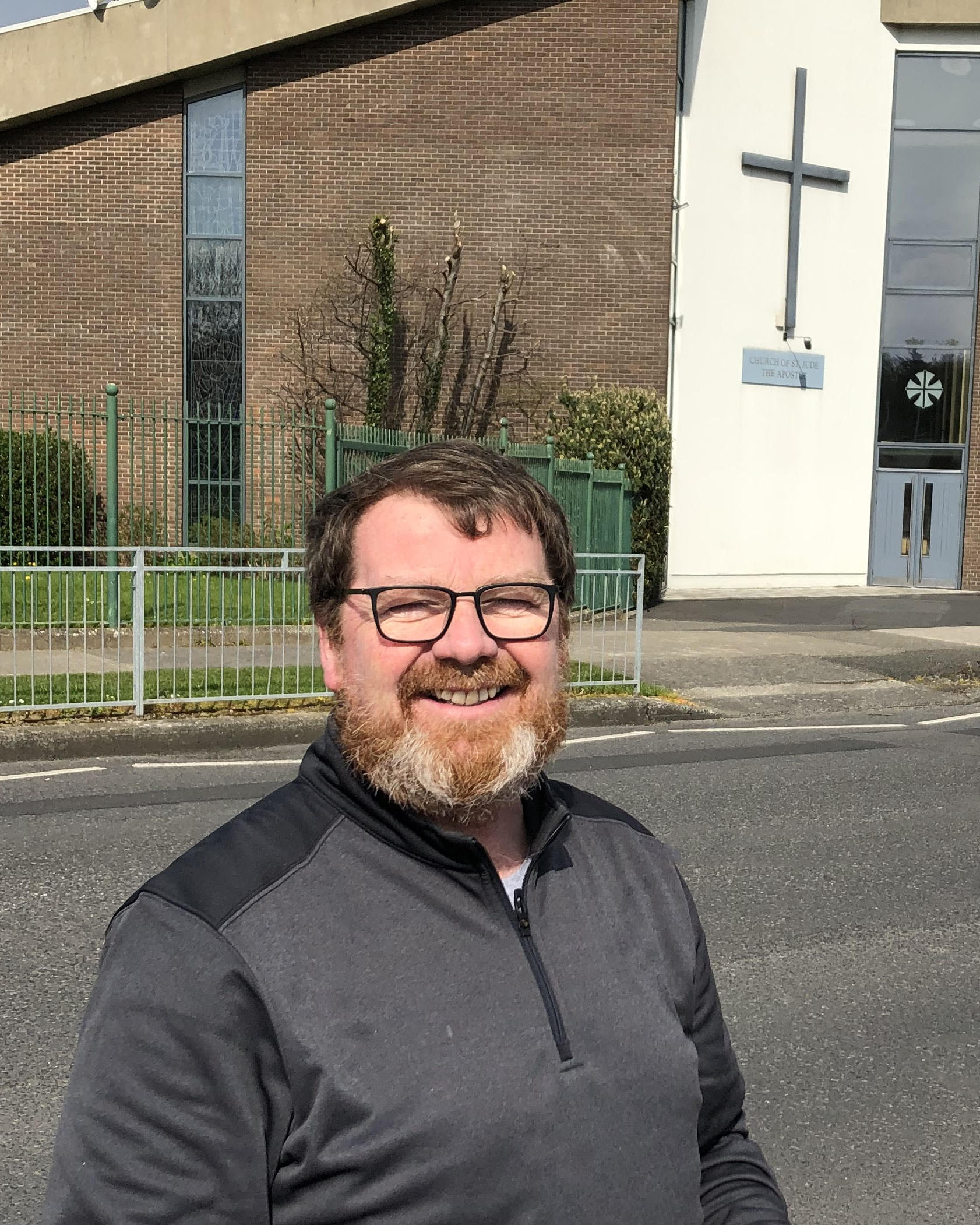 Dear Parishioner ,
Welcome to our parish website and if you are new to the area, welcome to our parish. You may come from further afield and simply want to know something about St. Jude the Apostle Parish – I hope that your visit will transform distance into friendship.
Our parishioners come from all over Ireland and beyond. We are comprised of young and not so young, working and retired people and children growing up who share a common love of God and each other. Please browse our site and feel welcome to drop into our beautiful church at any time to say a prayer or light a candle or join our parish family for Mass.
You can also tune in and watch our ceremonies live through the magic of the internet, which when you think of it is really what a parish is all about. A group of individuals combining talents and knowledge for the greater good and as the Jesuits would say, the Glory of God.
With best wishes:Fr. Brendan Madden P.P.

This parish is made up of over 2,500 homes from the estates of Orwell Park, Willington, Wellington Road, Cypress Downs, Glendown, Rossmore, Templeogue Wood, Templeogue Lodge, Rushbrook, Kennington, Wilderwood, Osprey, Kilvere and Domville.


Masses and Ceremonies Streamed Here in St. Jude The Apostle During Covid-19
Monday to Friday at 9.30am and
on Saturday Vigil 6:30pm & Sunday at 10.00am & 12:00pm

From Monday 4th January our Daily Mass will return to 9.30am. Mass will be streamed live each day. Unfortunately during the current restrictions no one is allowed attend Mass. All masses are recorded so if you cannot view at 9.30am you can go back and view recording later in the Day. Church will open Monday to Friday for private prayer from 11am to 4:30pm unless we have a funeral. If we have a funeral the Church will be closed until 1pm

Please note there is no public Adoration on either Saturdays, Sundays or
Public Holidays at present

As no collections are possible at this time there is an on-line payment facility via paypal. Click on "Donate" button




An Act of Spiritual Communion
My Jesus,
I believe that You
are present in the Most Holy Sacrament.
I love You above all things,
and I desire to receive You into my soul.
Since I cannot at this moment
receive You sacramentally,
come at least spiritually into my heart.
I embrace You as if You were already there and unite myself wholly to You.
Never permit me to be seperated from You.
Amen.
-

"Be a rainbow of God's love in the world."
-

Rosaries Fr Brendan Uses with
Fr Kevin & Dana.
Glorious Mysteries - Wednesday & Sunday
Joyful Mysteries - Monday & Saturday
Luminous Mysteries - Thursday
Sorrowful Mysteries - Tuesday & Friday


Go to the dedicated page for the Lectio Divina group by clicking here
Click here for Sunday's (28th February) Lectio Reflection or
Click here to goto the Lectio Reflection archive


Today's Mass readings or Universalis
Thought for Today
Sunday's Mass Readings


Click here for this week's newsletter or
Click here to go to the newsletter archive

There will be no Taize Masses here until further notice

.

Click here

to goto Taize page


The parish office will be closed while we are at Level 5 as per HSE guidelines.
Purchase of Mass Cards – There will be a selection of cards available on table in Fr Brendan's porch at 2 Rossmore Road. Please fill in details on brown envelopes provided and place envelope with Mass offering in letter box or safe at back of church
The Capuchin Franciscan Friary ( Brother Kevin) acknowledge with thanks the sum of just over €7000 donated by you for Christmas mass bouquets purchased here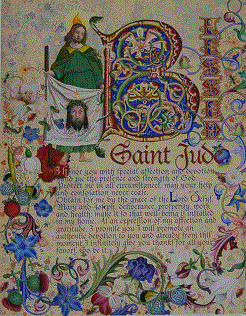 Capio Lumen Images:We have a number of the St Jude Prints by Michael Johnson. We have the A5 one for €20 and the A4 one for €50. They can be ordered by phoning me at 087 6174498. A video of prints can be viewed by clicking here. 1. Painting Of St Jude 2. Explanation of Painting
If you are cocooning and need mass cards please phone me at 087 6174498 and I will post out to you. Please give a few days' notice if you want masses offered or candles lit on particular days. Anyone wishing to book Masses can phone me or email judesparishoffice1@gmail.com


The Cosy Corner Café is now closed for all business. See cosy corner café facebook page for pics and more details. They thank you for your support in trying to keep a take away business going. They hope all their customers will remain safe and look forward to welcoming you all back soon
Can you spare 30 minutes of quite time: Link for a relaxed input on meditation by a Dominican from Cork retreat centre:
Watch "Finding the balance a reflection with Fr. Stephen Cummins" https://youtu.be/383V-0PoVus


Please be advised the use of Face Masks in Church at all times is mandatory for all Adults over 12 as advised by all Church Leaders unless you have a medical condition exempting you from wearing a Mask then the wearing of a face shield is recommended
Please be extra careful if you are in the Church to wipe down seats and anything you touch and not to gather around talking in groups. Stay Safe and hopefully, we will all be able to gather for worship again very soon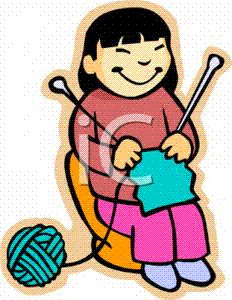 Calling all knitters: Chaplain looking for crochet or knitters to make small hearts for 2 hospitals, as a memory for families whose loved ones are at end of life – (one for the patient and one for the family). Pattern on YouTube 'How to knit a heart shape' Puffy Heart Shapes – small. Red Wool and safety pins supplied by Miriam. Contact Miriam on 08782727 or email Catherine at judesparishoffice1@gmail.com and I will email you copy of pattern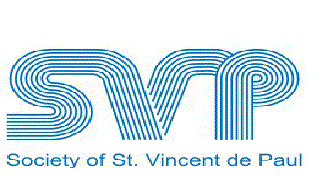 The Local Conference of the St Vincent De Paul Society acknowledges with thanks your continued support to them. Amount Donated during February was €1085.00 You can still leave your donations in safe at back of church. we ask if you can to use the Blue envelopes on tables in Church for your donations and place envelopes in Safe at back of Church there are more demands than ever on the Society for help at this time of pandemic so any help would be appreciated
First and Second Collections: There are now envelopes on tables in church to allow you to contribute to the 1st & 2nd Collections if you use these envelopes and put your address on them we can register these contributions and claim the tax back on these contributions through the CHY tax reclaim scheme so thank you in advance.
Thank you also to those who have made contributions to the First Collection and Share Collection.
The Common Fund, which is supported by the First Collection and Dues Collections is now on the verge of collapse and a 25% income cut with immediate effect has now been implemented for all the Priests of the Diocese. If you haven't yet made your donations we ask you to please consider doing so

Recordings of Daily & Weekend Masses are now available from our Webcam so if you miss any of our Masses you can view them later just click on recordings on our website or on churhmedia.tv
Saturday Morning Prayer at 10.00 We will have morning prayer each Saturday after which Church will open at approx 11am for private prayer and adoration

Jigsaw Offering younger people going through a hard time, or for those worried about a young person in your life. www.jigsaw.ie or https://www.jigsaw.ie/newsandevents/ post/covid-19-what-were-doing


Radio Maria Ireland: Mass is broadcast daily at 10.00am and on Sunday at 10.00am and 11.00am. Listen on Saorview ch210 on App "Radio Maria Ireland" Internet https://www.radiomaria.ie/ and on Facebook "Listen Live Radio" Mass also on EWTN each day if you have access to it on your tv's
RTE will broadcast Daily Mass each day at 10.30am for those of you who don't have access to the web


CHURCH DONATIONS AT THIS TIME: If possible anyone who donates via weekly envelopes and whose collector is not calling at moment or if you just wish to make a Donation to help us keep the Parish running we ask if you can log onto our website www.stjudesparish.net We now have a DONATE button there where you can make a donation to the parish. Please put the 1st line of your address in as reference or your current envelope number so we can allocate donations to your household so we can claim the tax back next year. We thank you all for helping us out at this time.


Request for copies of Baptism, Confirmation Certificates and Letters of Freedom from 1st June in order to comply with the new GDPR requlations we are required by law to ask the person for whom the certificate relates to to request copy themselves accompanied by photo id so the easiest way is to email request to judesparishoffice1@gmail.com and attach photo id otherwise we will have to give them a request form for you to sign and bring it back with photo id if you are asking someone to pick up certificates they must have photo id of their own as well before we can hand out paperwork


Church Collections click here for more details

CCOVID-19 Support Line for Older People ALONE has launched a national support line and additional supports for older people who have concerns or are facing difficulties relating to the outbreak of COVID-19 (Corona-virus). Professional staff are available to answer queries and give advice and reassurance where necessary. The support line is open Monday to Friday, 8am-8pm, by calling 0818 222 024. Hours may be extended to meet the demand. Monday evening adoration will go ahead from 7 to 9pm


South Dublin County Council Helpline 01-4149043 with the lines initially open from 9am to 5pm seven days a week. Out of hours email contact through covidsupport@sdublincoco.ie

Mass bookings:
All Mass bookings are now taken in the Parish Office if you wish to book a Mass please call into the parish office, for anniversary Masses please call into the office at least 2-3 weeks prior to anniversary to ensure that the date is available.
Bookings for Anniversary Masses – please note due to the high demand for Masses please book your anniverary mass dates in as early as possible to avoid disappointment. Mass bookings can be made now up to the end of the current year


Please refrain from leaving notes in Safe in Church or under door of sacristy requesting names to be read out Parish Office is open Monday – Friday from 8.30am to 1pm and after all Masses on Sunday morning phone 01-4600127 email: judesparishoffice1@gmail.com


Cards - Cards for all occasions now available in Parish Office. Also Confirmation cards and religious objects available click here for Test