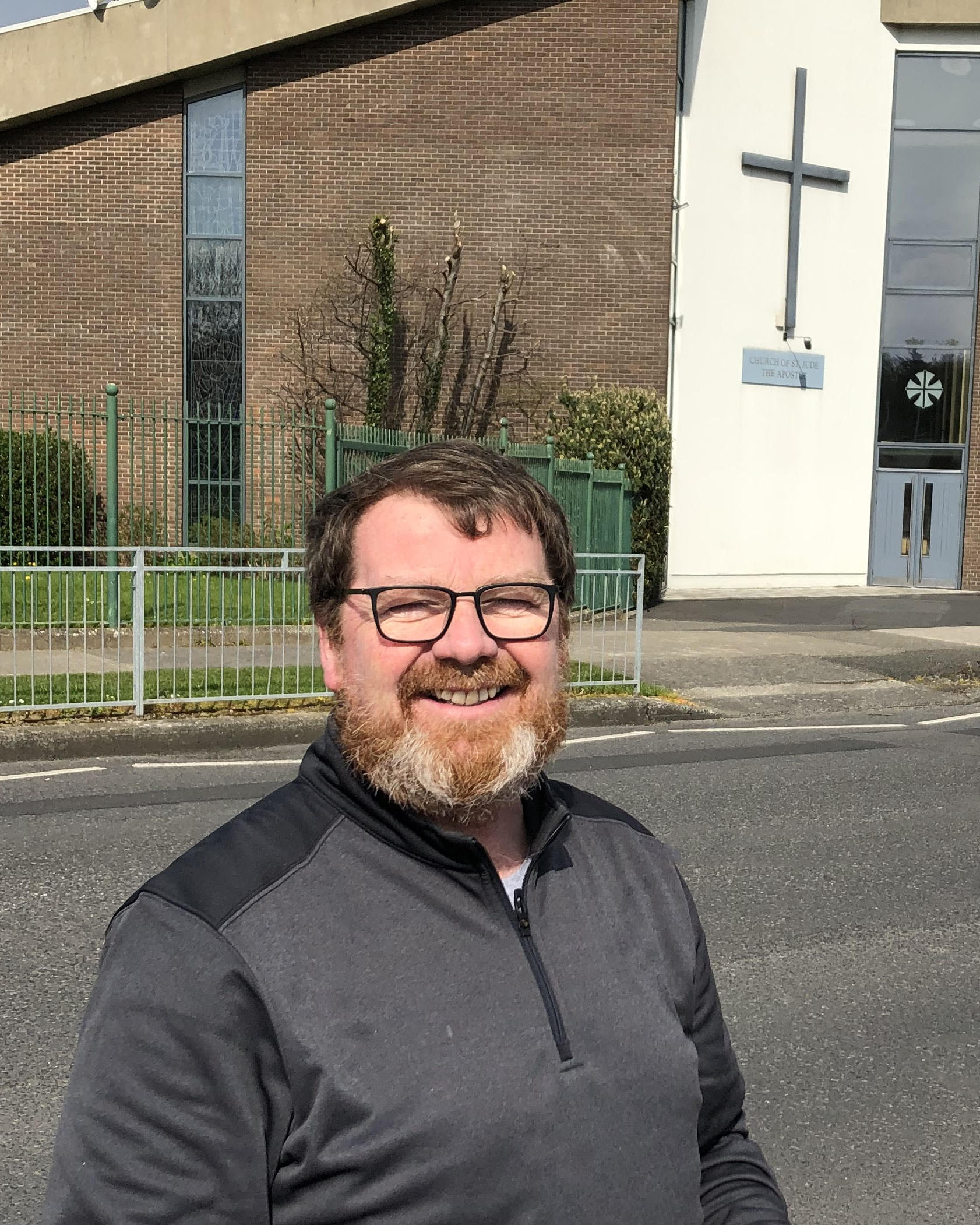 Dear Parishioner ,
Welcome to our parish website and if you are new to the area, welcome to our parish. You may come from further afield and simply want to know something about St. Jude the Apostle Parish – I hope that your visit will transform distance into friendship.
Our parishioners come from all over Ireland and beyond. We are comprised of young and not so young, working and retired people and children growing up who share a common love of God and each other. Please browse our site and feel welcome to drop into our beautiful church at any time to say a prayer or light a candle or join our parish family for Mass.
You can also tune in and watch our ceremonies live through the magic of the internet, which when you think of it is really what a parish is all about. A group of individuals combining talents and knowledge for the greater good and as the Jesuits would say, the Glory of God.
With best wishes:Fr. Brendan Madden P.P.

This parish is made up of over 2,500 homes from the estates of Orwell Park, Willington, Wellington Road, Cypress Downs, Glendown, Rossmore, Templeogue Wood, Templeogue Lodge, Rushbrook, Kennington, Wilderwood, Osprey, Kilvere and Domville.



Click here for 9 Day (20 - 28 October 2020) Novena Prayer to Saint Jude

If link above does not work try clicking below





Masses and Ceremonies Streamed Here in St. Jude The Apostle During Covid-19
Monday to Friday at 9.30am and
on Saturday at 6.30pm Sunday at 10.00am & 11:30am

Please note there is no public Adoration on either Saturdays, Sundays or
Public Holidays at present

We thank you for your co-operation and patience at this time

As no collections are possible at this time there is an on-line payment facility via paypal. Click on "Donate" button
Click here to view more detailed letter on Mass arrangements

Templeouge Cemetary Graveyard Mass 2020 celebrant Fr. Brendan Madden as captured by our local videograpther Mick


https://youtu.be/vwe2n8A63wg


An Act of Spiritual Communion
My Jesus,
I believe that You
are present in the Most Holy Sacrament.
I love You above all things,
and I desire to receive You into my soul.
Since I cannot at this moment
receive You sacramentally,
come at least spiritually into my heart.
I embrace You as if You were already there and unite myself wholly to You.
Never permit me to be seperated from You.
Amen.
-

Be not afraid open the doors to Christ .
- Saint Pope John Paul II

Rosaries Fr Brendan Uses with
Fr Kevin & Dana.
Glorious Mysteries - Wednesday & Sunday
Joyful Mysteries - Monday & Saturday
Luminous Mysteries - Thursday
Sorrowful Mysteries - Tuesday & Friday


Go to the dedicated page for the Lectio Divina group by clicking here
Click here for Sunday's (25th October) Lectio Reflection or
Click here to goto the Lectio Reflection archive


Today's Mass readings or Universalis
Thought for Today
Sunday's Mass Readings



Insights into Spiritual Communion
Click here for this week's newsletter or
Click here to go to the newsletter archive




Please note there will be no Taize Masses here until further notice

.

Click here

to goto Taize page


Winter time starts this weekend. Clocks go back 1 hour @ 2am Sunday 25th October

During Phase 5 Parish Office will open Monday to Friday 10.30 to 12.30 to facilitate booking of Masses or to purchase Mass Cards

Please be advised the use of Face Masks in Church at all times is mandatory for all Adults over 12 as advised by all Church Leaders unless you have a medical condition exempting you from wearing a Mask then the wearing of a face shield is recommended
We thank you all for helping us out at this time. Many thanks to all who donated so far. Last weeks donations via Paypal were €1650.00. You can drop your envelopes into safe at back of Church if you are passing during the day.


Cosy Corner Cafe – Closed this week for Mid Term Break. Back with take away service Tuesday 3rd November please support local business if you can.
Cosy Corner Cafe – New Opening hours Tuesday to Friday 9am to 2.30pm take away and limited outdoor seating at moment
Click here for Our TAKE AWAY-AFTERNOOON TEA MENU CHRISTMAS 2020
Click here for Our CHRISTMAS BAKING PRICE LIST 2020
November Altar Lists of the Dead are now available on the tables in porch or at top doors. Please take one home and fill out the names of those you would like to be remembered at our 1st Friday Mass each month during the year. Please drop envelopes back to safe in church or hand into parish office

Annual Mass for deceased parishioners Monday 2nd November 2020 at 7.30pm. This year due to corona restrictions our mass will be a Virtual Mass. You can all join us on the web at www.stjudesparish.net if you wish to have a family member or friend remembered at this mass who died since last November and whose funeral did not take place here please email names to judesparishoffice1@gmail.com or drop into Parish Office Monday to Friday 10am to 12.30pm with names before Thursday 29th October at 1pm. We will light a candle at our mass on your behalf to remember your deceased family member or friend. Please Note no one can physically attend our mass this year due to the corona restrictions
Unfortunately we will only be now allowed have 25 people in the Church for Funerals


Koins for Kids wish to acknowledge the generosity of all who have supported them in their goal to raise enough money to buy a new MRI scanner for the new childrens hospital so far they have raised just over €170,000 euro if you have any old foreign coins or notes or any small euro coins you can drop them into parish office anytime and we will pass them on to KOINS FOR KIDS


Our Local Conference of The St Vincent De Paul acknowledge with thanks the sum of €1145 donated during October left into safe at back of church or handed into parish office during September or you can lodge directly to their bank account using IBAN IE62BOIF90075483434073
All Christenings Ist Communions & Confirmation ceremonies scheduled to take place during Phase 3 will have to be postponed while we are in lockdown we are sorry that we have to postpone these important ceremonies but the wellbeing and health of our parishioners and your families is the most important thing at the moment and the only way to flatten the curve of the virus is to suppress the movement of people in groups and we have to do our part


Jigsaw Offering younger people going through a hard time, or for those worried about a young person in your life. www.jigsaw.ie or https://www.jigsaw.ie/newsandevents/ post/covid-19-what-were-doing


Thank you also to those who have made contributions to the First Collection and Share Collection. The Common Fund, which is supported by the First Collection and Dues Collections is now on the verge of collapse and a 25% income cut with immediate effect has now been implemented for all the Priests of the Diocese. If you haven't yet made your donations we ask you to please consider doing so


Radio Maria Ireland: Mass is broadcast daily at 10.00am and on Sunday at 10.00am and 11.00am. Listen on Saorview ch210 on App "Radio Maria Ireland" Internet https://www.radiomaria.ie/ and on Facebook "Listen Live Radio" Mass also on EWTN each day if you have access to it on your tv's
RTE will broadcast Daily Mass each day at 10.30am for those of you who don't have access to the web


CHURCH DONATIONS AT THIS TIME: If possible anyone who donates via weekly envelopes and whose collector is not calling at moment or if you just wish to make a Donation to help us keep the Parish running we ask if you can log onto our website www.stjudesparish.net We now have a DONATE button there where you can make a donation to the parish. Please put the 1st line of your address in as reference or your current envelope number so we can allocate donations to your household so we can claim the tax back next year. We thank you all for helping us out at this time.


Request for copies of Baptism, Confirmation Certificates and Letters of Freedom from 1st June in order to comply with the new GDPR requlations we are required by law to ask the person for whom the certificate relates to to request copy themselves accompanied by photo id so the easiest way is to email request to judesparishoffice1@gmail.com and attach photo id otherwise we will have to give them a request form for you to sign and bring it back with photo id if you are asking someone to pick up certificates they must have photo id of their own as well before we can hand out paperwork


Church Collections click here for more details

CCOVID-19 Support Line for Older People ALONE has launched a national support line and additional supports for older people who have concerns or are facing difficulties relating to the outbreak of COVID-19 (Corona-virus). Professional staff are available to answer queries and give advice and reassurance where necessary. The support line is open Monday to Friday, 8am-8pm, by calling 0818 222 024. Hours may be extended to meet the demand. Monday evening adoration will go ahead from 7 to 9pm


South Dublin County Council Helpline 01-4149043 with the lines initially open from 9am to 5pm seven days a week. Out of hours email contact through covidsupport@sdublincoco.ie

Mass bookings:
All Mass bookings are now taken in the Parish Office if you wish to book a Mass please call into the parish office, for anniversary Masses please call into the office at least 2-3 weeks prior to anniversary to ensure that the date is available.
Bookings for Anniversary Masses – please note due to the high demand for Masses please book your anniverary mass dates in as early as possible to avoid disappointment. Mass bookings can be made now up to the end of the current year


Please refrain from leaving notes in Safe in Church or under door of sacristy requesting names to be read out Parish Office is open Monday – Friday from 8.30am to 1pm and after all Masses on Sunday morning phone 01-4600127 email: judesparishoffice1@gmail.com


Cards - Cards for all occasions now available in Parish Office. Also Confirmation cards and religious objects available click here for Test