The priests of the parish wish to congratulate you on your decision to celebrate the Sacrament of Marriage in our Church. We encourage you to read this booklet which may provide answers for any questions you might have.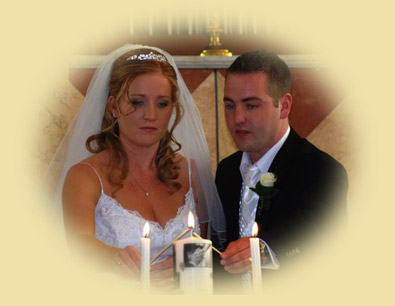 A guideline for couples intending to marry in our Parish Church (download here)

Statement Concerning the Freedom to Marry Form (download here)

Request Letter of Freedom Form (download here)

Request Bapt Cert and Authorisation Form (download here)

Request Conf Cert and Authorisation Form (download here)

Paperwork

Notification to State

Due to the recent change in Civil Law in relation to the registration of marriages, couples intending to marry must make an appointment to see the Registrar in person over three months before the wedding, this is a legal requirement.

Please contact Parish Priest as soon as possible to book in your wedding. No bookings can be taken unless a minimum of three months notice is given.

A Letter of Freedom is required where someone has lived for more than six months outside the parish since the person was 16. If a person has lived in a number of places especially overseas it may be easier to obtain a Statutory Declaration from a solicitor.

Baptismal and Confirmation Certificates dated within six months of the date of wedding.

Pre Nuptial Enquiry Form

Each person intending to marry must make an appointment with one of the priests in the parish in which they are living to have their Pre Nuptial Enquiry form filled out. When going to see the priest in your parish you should have copies of your Baptismal & Confirmation Certificates dated within six months of the wedding and a letter of freedom from any other parish you have lived in for more than six months since the age of sixteen. You will also need to bring along proof that you have been to see the registrar

Please arrange this appointment at least two to three months prior to the actual wedding

Pre Marriage Course

In preparation for the reception of the Sacrament of Marriage we strongly recommend that you attend a Pre-Marriage Course Accord provides pre-marriage courses in a number of centres. The Accord address is given overleaf.

Please book course well in advance as places are limited.

The Ceremony

Readings

It is a great privilege to read scripture at a wedding ceremony. When inviting someone to read please ensure the person is clear and competent.

There are many books on wedding readings one of which is "Readings for your wedding" published by Veritas.

Music

Music enhances every liturgical occasion and this is very true of wedding liturgies. There is a great variety of Christian music both traditional and modern available. Certain types of music while pleasant and romantic may be more appropriate to the reception at the hotel. Our Parish Organist is Judith Máté an accomplished organist & can be contacted through the Parish office.

Flowers

We recommend that you use our Parish florist Kate Timson for your Church flowers. Please contact the Parish office for contact details.

Photography/Video Recording

Photographers are a usual part of the wedding ceremony and are welcome in St Judes however we would ask that they respect the sacred character of the church especially the sanctuary area. We would appreciate if they make contact with the Celebrant prior to the ceremony.

The Offering for the Church is €350 this is a contribution to light, heat and general maintenance.
We would be grateful if this offering could be made on the night of the rehearsal.

On the day:

Please be on time & ask guests to switch off mobile phones
Confetti is not allowed in the church or church grounds

A rehearsal makes for a relaxed liturgy and should be arranged with the presiding priest and the sacristan.

An engaged couples prayer



Lord Jesus, you have called us to be united in your love. We wish you to be at the heart of our marriage. Help us now to prepare for our wedding day when we will become one with each other and one with you. As we look forward to the day of our wedding, we pray to you Lord Jesus that our love and understanding of each other may continue to grow and deepen day by day.